Verre trempé de vitrine commerciale claire de taille standard
Brève introduction du verre trempé
Le verre trempé est 5 fois plus dur que le verre flotté ordinaire, également appelé verre trempé. Et le verre trempé peut être utilisé comme vitrine commerciale lorsque le verre trempé se transforme en verre feuilleté. Avec une haute résistance et des fragments collent avec le PVB ou SGP lorsque le verre brisé. Nous pouvons fournir la taille adaptée aux besoins du client, les formes, et avec le verre feuilleté multicouche. Il est largement utilisé dans la porte en verre, salles de douche, balcon de verre, balustrade en verre, balustrades en verre etc. Et le verre trempé peut être traité en verre feuilleté, verre isolé, unités en verre triple vitrage etc. verre trempé de taille jumbo, verre feuilleté et verre trempé de 19 mm, verre feuilleté SGP ultra clair.
Information de Temper ed Glass
| | |
| --- | --- |
| Thickness | 4-19 mm |
| Max Size | 3300*13500 mm, any customized size can meet your required |
| Min Size | 300*300 mm, any customized size can meet your required |
| Available Type | Float Glass, Heat Reflective Glass, Single Silver Low-E Glass, Double Silver Low-E Glass, Triple Silver Low-E Glass Etc. |
| Color | Clear, Ultra Clear, Green, Blue, Grey, Bronze, etc. |
| Process | Beveling, Drilling, Cutting, Bending, Silkscreen, Painted, Acid Etched, Etc. |
| Edge Processing | Grinding Edge and Polished Edge |
| Corner | Safety Corner and Round Corner |
| Water Jet Cutting | Cutouts, Hinge, Micky Ears |
Caractéristique du verre trempé
Sécurité: verre trempé après la rupture en fragments, ne pas blesser le corps.
Force: verre trempé a 4-5 fois la force que le verre ordinaire.
Stabilité à chaud: bonne stabilité à chaud, il peut supporter 3 fois la température que le verre ordinaire, peut également supporter le changement de plus de 200 ° C.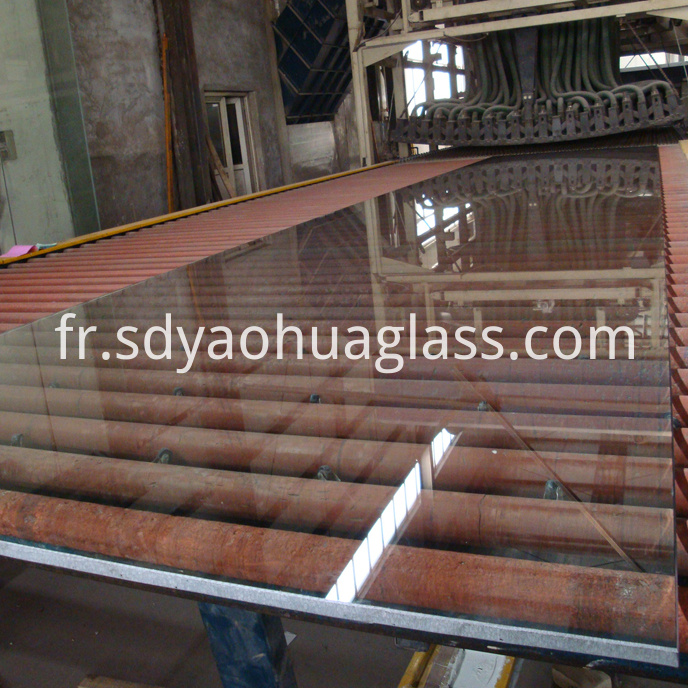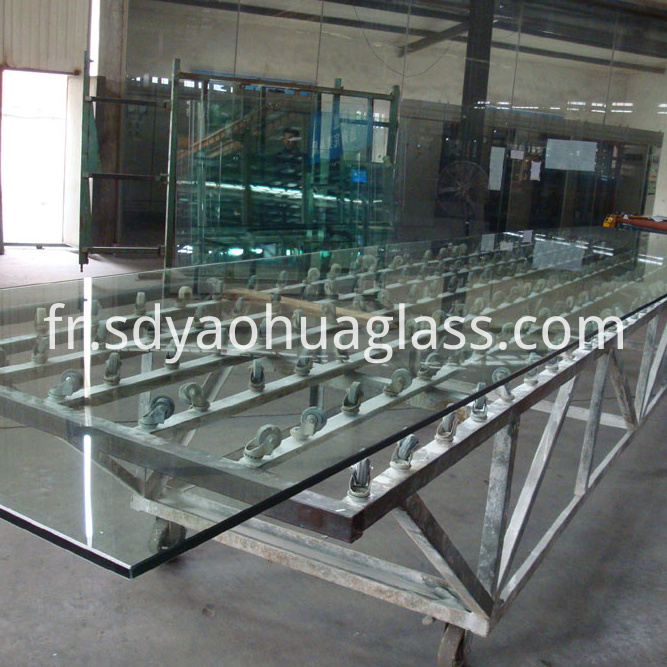 Emballage et expédition
Temps de production: dans les 10-15 jours après la commande est confirmée;
Caisses de contreplaqué d'exportation solides, avec du papier ou de liège mou entre deux feuilles;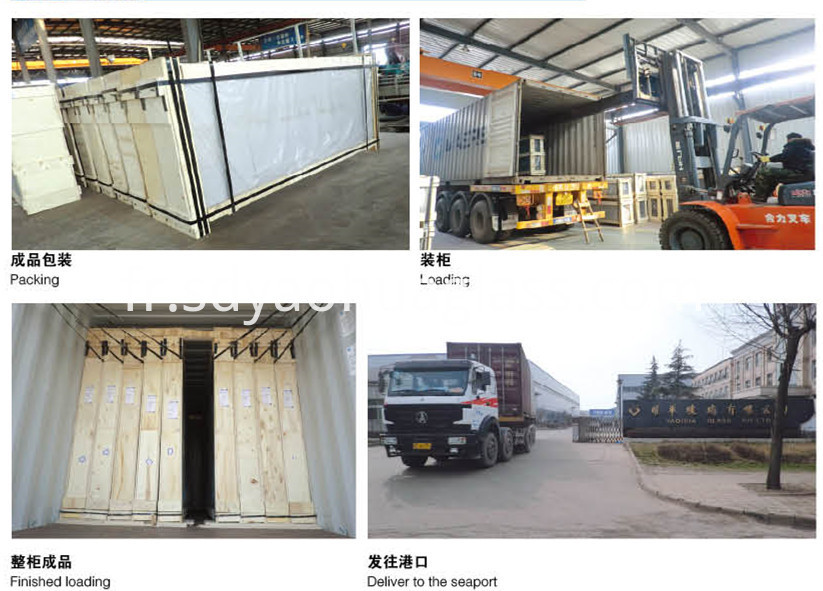 Informations sur la société
Shandong Yaohua Glass Co., Ltd a été créé en 1985, après plus de 30 ans de développement, il est devenu l'un des 30 premiers fabricants de verre de construction. À l'heure actuelle, il y a environ 300 employés, 2 grandes usines standard modernes, 3 bases de production, plus de 40.000 mètres carrés de zone de production. Notre compagnie a le certificat de système de gestion de qualité et le certificat de ccc. La production dépend du verre LOW-E, du verre trempé, du verre isolant, du verre feuilleté, du verre sérigraphié, du verre bombé chaud, du verre pare-balles, du verre de 15 mm et d'autres types de verre profond.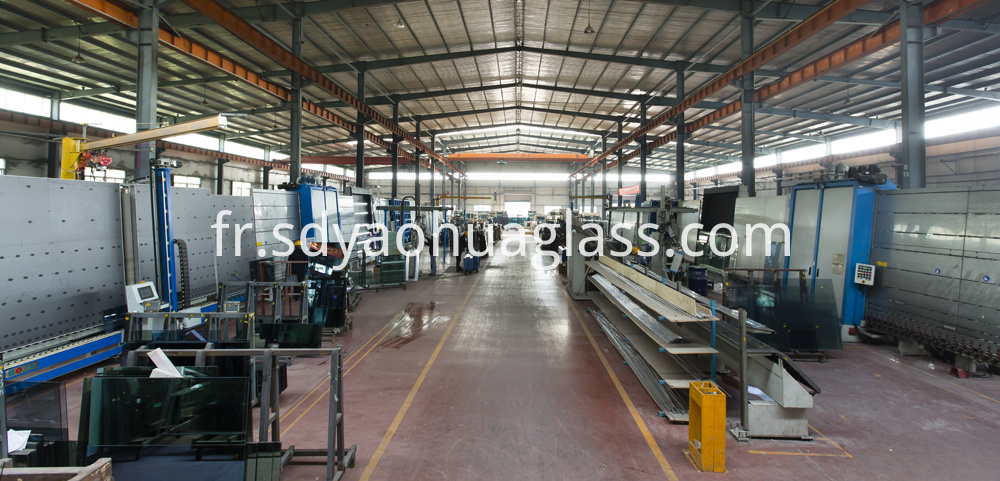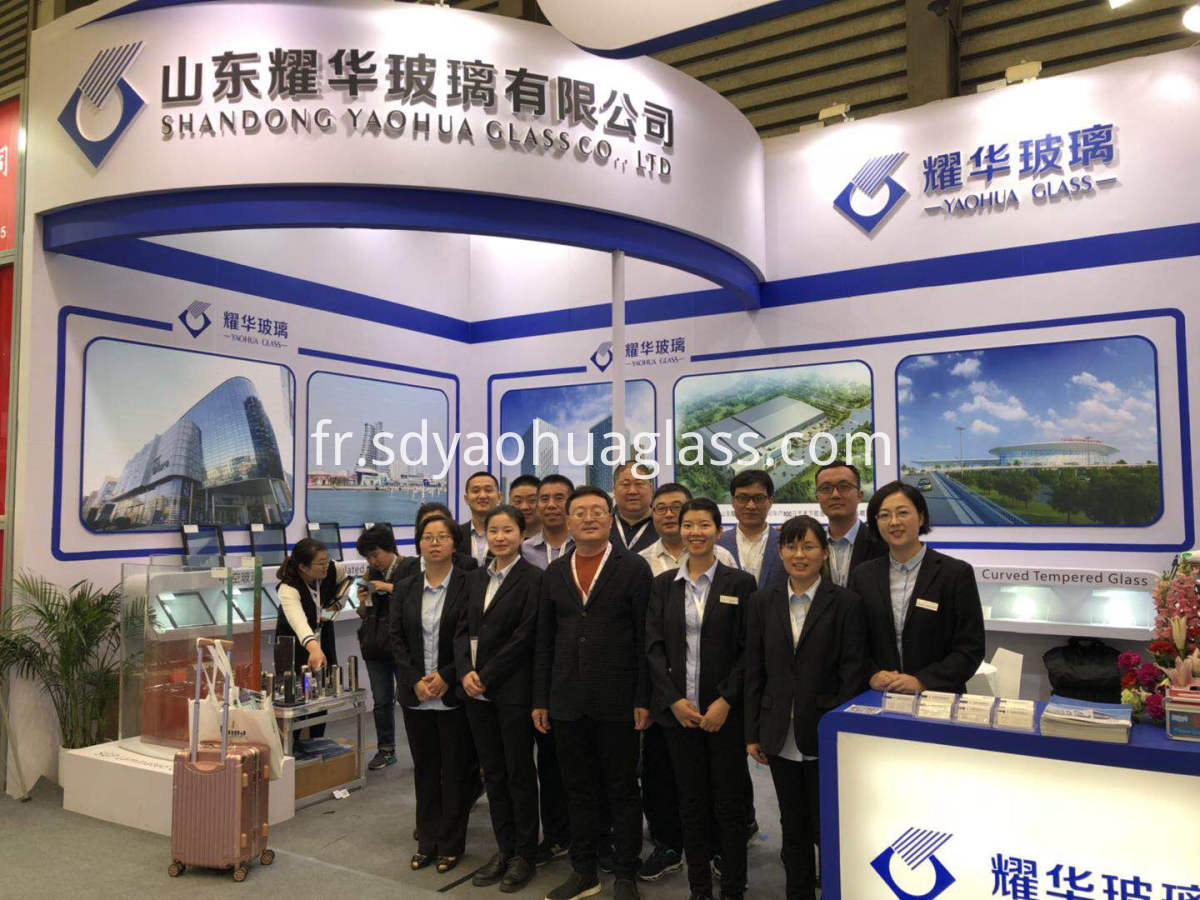 FAQ

1. How can I get the best price?
In order to offer our best price for you, please send all the details as below for us:
a. size and thickness of required glass; b. the approximate quantity; c. if special requirement like drill holes, cut notches, cutouts, acid etched, silkscreen; d. when you need those glass?

2. Where are you located?
Our factory locate in Jinan City, Shandong Province, China. Warmly welcome to visit us any time.

3- What's the fastest production time you can do?
Generally, insulated glass is 7-15 days, tempered glass is 10 days, laminated glass is 7-10 days.

4- How can you make sure the glass won't broken during transportation?
For all the glass from Shandong Yaohua Glass, we will pack them into strong export plywood crates and load the crates into container with metal belt as stable as possible. If unfortunately by accident, the glass broken, we will have insurance to cover the risk, because for all the glass from our company, we will purchase the insurance to cover all the risk for customers freely.

5- Can you accept small quantity?
Yes, but the price will be a little higher, because it needs to share more cost like depreciation of machinery and local charges.

6- Can you send me some samples to check your quality?
Sure, we could send the free samples (except special deep processing glass) for you any time. But for fair business, you pay for courier charge. If you have courier account like DHL, TNT, Fedex, send the detail account information to us, and we send out the samples ASAP. If you don't have courier account, transfer the courier charge for us, we will pay for delivery cost, and we will refund the courier charge for you once we start business.

7- Can you mix different glass in one container?
Yes, we could mix different processing glass like tempered glass, laminated glass and insulated glass in one container. But not with normal float glass.

8- How can I reach you faster?
Call us any time by phone number 0086 15552560235. We are here for you 24 hours/day, 7 days/week.
Groupes de Produits : Verre trempé > Verre de sécurité